C E FERULIC WITH 15% L-ASCORBIC ACID
This popular, dermatologist-recommended serum targets fine lines, discoloration, and hyperpigmentation with a potent, revitalizing blend of vitamins C and E and ferulic acid.
What it is : An effective serum containing vitamin C, vitamin E, and ferulic acid
What it does : It brightens complexion, reduces discoloration and symptoms of aging, and enhances firmness.
Who It's For: Anyone seeking a serum with scientific backing that goes beyond attaining glowing skin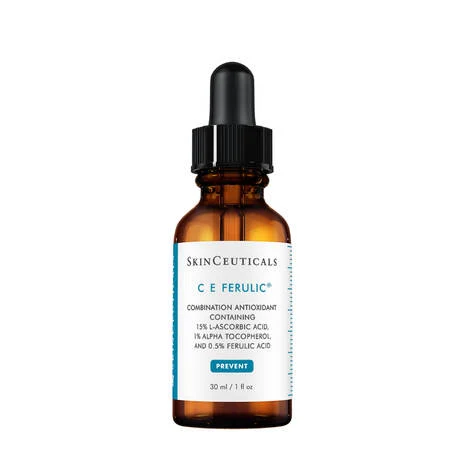 A patent-protected daytime vitamin C serum that offers advanced environmental protection that reduces the appearance of fine lines and wrinkles, as well as restoring hydration and firmness and improving skin tone. Clinically proven to reduce oxidative damage caused by UV, ozone and diesel exhaust by up to 41%.
Skin Types : Dry, Normal, Combination, Sensitive Skin Types
Skin Concern : Sensitized, Dehydrated, Discoloration, and Aging Skin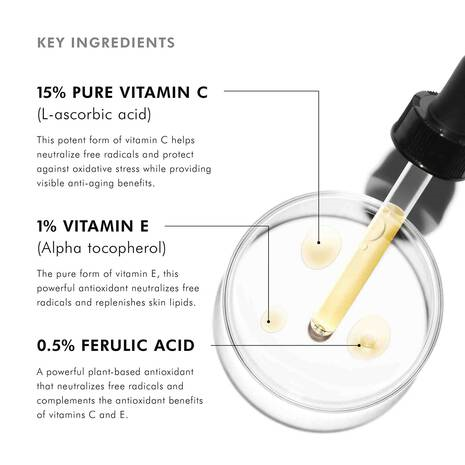 Active Ingredients :
15% L-ascorbic acid
Lauded for its superior antioxidant benefits, this highly potent form of pure vitamin C helps neutralize free radicals and protect against oxidative stress while providing visible anti-aging benefits.
1% alpha tocopherol
This pure form of vitamin E neutralizes free radicals and replenishes skin lipids. It has been proven to act synergistically with vitamin C.
0.5% ferulic acid
A plant-based antioxidant, ferulic acid neutralizes free radicals and enhances the antioxidant benefits and stability of vitamins C and E.
C E Ferulic contains a synergistic antioxidant combination of 15% purified vitamin C (L-ascorbic acid), 1% vitamin E (alpha tocopherol), and 0.5% ferulic acid to enhance protection against environmental damage resulting from free radicals that can contribute to atmospheric aging. C E Ferulic is now proven to reduce combined oxidative damage generated by UVA/UVB rays, ozone pollution, and diesel engine exhaust by up to 41%. C E Ferulic enhances signs of aging and photodamage, the appearance of lines and wrinkles, and the loss of firmness, while brightening the complexion of the skin.
Benefits :
Provides advanced environmental protection by neutralizing damaging free radicals
Visible anti-aging benefits, including a reduction in the appearance of fine lines and creases, loss of firmness, and a brightening of the skin's complexion.
Neutralizes free radicals in the upper layer of epidermis to help prevent ozone-induced skin damage.
Once absorbed, this vitamin C serum remains effective for a minimum of 72 hours
Ideal for normal, dehydrated, and sensitive skin types without parabens
Tested suitable for use post-laser, always consult with a physician for individual post-procedure care
TSA Approved
What Are the Key Ingredients?
Vitamin C is typically used in skincare to address hyperpigmentation, skin dullness, dark marks, and sagging skin. Experts recommend incorporating vitamin C into your routine to even out skin tone and restore a youthful glow.
Think of Vitamin C as the product that everyone should have in their routine, as its antioxidant properties can reduce free-radical damage and promote a youthful complexion.
Rapaport explains it as follows, why is Vitamin C essential for healthy skin: By reducing damage from free radicals. Free radicals are unstable atoms that can harm cells, including the cell membrane and DNA. Free radical damage on the skin is associated with aging. Therefore the antioxidants within Vitamin C are regarded as an anti-aging skincare product.
Free radicals result from exposure to the sun, pollution, or cigarette smoke, all of which are daily occurrences. This protection is enhanced by the serum's incorporation of antioxidant-rich vitamin E.
The antioxidant benefits of the aforementioned vitamins are complemented by ferulic acid, which Rapaport refers to as "the quintessential plant-based wonder." "These megawatt hero ingredients work synergistically to scavenge all the free radicals that build up in your skin on a daily basis, giving you the most even, plump skin possible from a serum," she says. These ingredients in C.E. Ferulic function in tandem to reduce cell damage, slow the aging process, and reduce fine lines and wrinkles.
CLINICALLY PROVEN RESULTS
37%
Increased Firmness
27%
Reduction in the appearance of fine lines
36%
Reduction in the appearance of wrinkles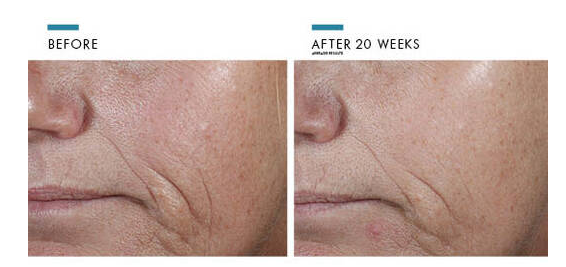 Application of SkinCeuticals C E Ferulic
As with the majority of vitamin-C formulations, you should not expect to see immediate results. According to Rapaport, "results can be seen in as little as four to six weeks, but even better results are seen after week 12."
SkinCeuticals C E Ferulic FAQ
What color should C E Ferulic be when first opened?
Upon breaking the plastic seal and opening, C E Ferulic should be relatively clear to pale yellow. Due to the active ingredients inside of the formula, the product will begin to darken in color over time. Please note that this does not mean the formula has become ineffective.
How long does a bottle last after opened?
It is normal for SkinCeuticals vitamin C products to darken after opening due to air and light exposure. The formula will remain effective. Once opened, with daily application of 4-5 drops to face, neck, and chest, it is recommended to be used within 3-6 months after opening.
What is the scent/smell of C E Ferulic?
We do not use preservatives in our products. Since there is no fragrance added to this serum, what you are likely smelling is the natural scent of the vitamins within the formula.
Can C E Ferulic be used with a retinoid or retinol?
C E Ferulic should be the first step as part of your morning regimen while a retinol or retinoid should be used as one of the final steps of your nighttime regimen. There is no conflict or issue to use both within the same daily skincare regimen. Please consult your skincare physician with any questions.
How and when should I apply C E Ferulic?
C E Ferulic should be used once a day in the morning on dry or damp skin (4-5 drops on the face and neck) due to its protective elements that help keep your skin safe from environmental aggressors, such as cigarette smoke and diesel engine exhaust. C E Ferulic can be layered prior to makeup application.
If you would like to incorporate a nighttime antioxidant into your skincare regimen, you can use Resveratrol B E. If you are on a topical prescription medication, please speak to your doctor regarding the order of layering these products.
Is it safe to use C E Ferulic while pregnant or breastfeeding?
We have not tested on this specific population. Therefore, we advise you to please speak with your healthcare provider regarding whether C E Ferulic is safe to use while pregnant.
How should I store C E Ferulic after opening?
Please store C E Ferulic at room temperature and away from extreme temperature drops or increases, such as a hot car or in a freezer. While it is likely okay to store your C E Ferulic in a fridge, there is no added benefit or longevity to this storage method. Please also store C E Ferulic away from direct sunlight.
When will I start seeing results after using C E Ferulic?
Our C E Ferulic study looked exclusively at 12-week data where we saw significant results.
Is it safe to use C E Ferulic on sensitive skin?
C E Ferulic is recommended for people with wrinkles and/or fine lines. Every skin type is different, so while some people with sensitive skin will have no issue using C E Ferulic, some might. We offer a variety of antioxidant options so that there is a suitable option for every skin type.
Should I pair C E Ferulic with a broad-spectrum sunscreen?
Yes! We recommend doing so. While C E Ferulic does not replace SPF, it does enhance the effects of SPF. The pairing of the two will provide you with more advanced broad-spectrum UV and environmental protection.